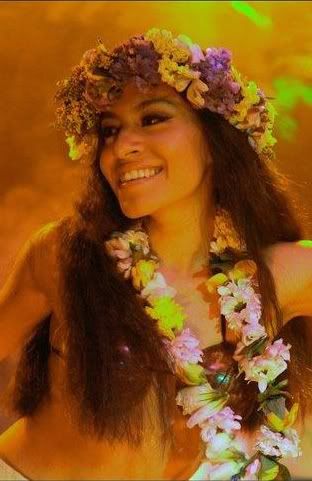 AMANDA MENDOZA ZAPATA, was born in Mexico City , she is a promising young dancer of Hula and Ori Tahiti. Even as a child she studied classical ballet, contemporary and Mexican folklore, but her real passion born from the dances of the Pacific "Polynesian and Hawaiian."
She started studying in 1999 at the Academy of Polynesian dance hula Kuahine o'ka in Mexico with teacher Laura Luna (Ori Tahiti) and Daphne Pena (Hula).
Participates in several seminars with Kumu Hula Ray Fonseca, Joseph Camacho, Debbie Leionallani,
Maria de la Luz, Djahel Vinaver, Wanda director of the center of Mana Toulun in France.
In 2007 she ranked second to the first edition of the Miss Aloha Hula Mexico.
Her career path led her to approach these dances with deep respect for culture, by increasing her in close contact with Mother Earth.
She grows artistically with the frequent trips to the beautiful island of Tahiti, where she studied at the French Art Conservatory in Polynesia, where she was invite to participate actively in the shows of the famous Troupe Les Grands Ballets de Tahiti.
She was teaching Polynesian Dances in Mexico City at various schools and cultural centers until her decision take her life in Italy where she now lives and teaches in several cities seminare and training.